Well as much as I hate getting older, and my Birthdays in the past usually involved my gifts being 'combined' with my Christmas Gifts (which doesn't mean bigger or bettter).
Today was nearly the perfect birthday!
We we were going to also go to the
Henry B. Plant museum
 to see the Victorian Christmas Stroll.
Sparky didn't remember going 10 years ago (he was only 5) and obviously neither did Mini Martha, since she was only 10 months old
I got to sleep an extra 45 minutes, after the 7am text message from my oldest daughter (THANK YOU JESSICA) wait until your 23rd Birthday!!!!
After waking up with a horrible headache (I watched Pictures of Hollis Woods, the Hallmark movie and cried the entire show) I grabbed some acetaminophen and aspirin with a cup of coffee crawled back in bed for the Traditional Birthday Breakfast in Bed. Wheat Free Blueberry Pancakes with REAL Maple Syrup, Sliced Bananas with Almond Butter (peanut butter with almonds not peanuts). I had 3 gifts to open with Breakfast ...a small Ironstone style pitcher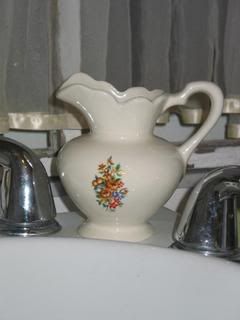 a copper heart mold
and a lovely handmade ornament from Mini Martha
I also received a
Birthday Card
with my favorite Characters from Jessica"
A Belgian Birthday wish from my long lost Braski and his wife
"le jour de gloire
happy 36th missy
us from over that big body of water"
I also received Birthday wishes from the PRHG this morning
Even THE QUEEN stopped to post a note
So it started out to be a PERFECT DAY. Right before we were heading out the door I see a small brown and white dog bolting down the back hill through our bushes, realizing Sparky forgot to let Otis in 15 minutes ago. Don't know if the dog was in the busy road behind our house or not but he wasn't injured!
After loading the car up and hitting the bank for cash it was off to Tampa
I got to see photos of the Smokey Mountains (via a National Geographic Sparky brought along) I got to hook on the way, listen to Newsboys/U2/and Pirates Of the Caribbean/Louis Armstrong then we saw Johnny Depp as Jack full size Statue
We ate Soft Shell Crab and ate a Sushi place, stopped at BALLARD Design where realized some of the things they have I can now purchase direct through the wholesale company they use woo hoo!
I bought two balsam cedar sachets for Hubby at Caswell and Massey, purchased a large measuring spoon to match the one I won from CM a few years back at William and Sonoma
saw the mirrors and butterfly decorations at Neiman Marcus again
Had a Starbucks Peppermint White Chocolate Iced Coffee and Chocolate Mint Brownie do you see the small piece left, I shared it with my dear hubby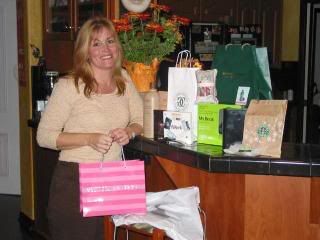 So do you notice what is missing?
Look closely
That's right my iphone, apparently you must use a credit card and we only brought cash and checks.....LOVELY do you think they could warn you on the commercials? Or maybe the online Apple Store?, or maybe when you go to the actual stores link to get DIRECTIONS they might tell you that you can only purchase an iphone with a CREDIT CARD?????
NOOOOOOOOOOOOOOOOOO!!


I did get the new OS Leopard for my mac and iwork , so now I can work on our brochures and the CM database for the area group
Oh and I got a $40 dollar boob job
Yes after nursing 4 children they are back where they belong
thanks to my new Victoria's Secret Bra.
The kids were too funny as neither one would come into the store (remember we are talking one is a 15 yr old boy) Mini Martha kept beeping her father from the entry telling him "Stay out of the lingerie store" each time he would go out & the minute he came back to check on my total she would beep him again.
We didn't end up going to the Museum either. All in all an almost perfect day.
Just received another
e-card
of my favorite Characters from my downline and dear friend Cheryl